Fiaskoflirt

2022, documentation of the exhibition
Okay Works, 26. 05. 2022 - 11. 06. 2022
photos © Jana Perusich
---
Text: Carmen Lael Hines


Marc Henry's 12-piece series flirts with the fine line between the Eros (pleasure principle) and the Thanatos (death drive). These fine lines blur and swell into troubling, viscerally attractive forms nascent of the unheimlich, or familiar strangeness. The canvas becomes, at times, a study into the sensuality of material, touch, and texture. Gloved hands caress bounded feet, ringed fingers wrench apart a dog's jaw, a fluoresced bat gets fed by a crow. We are presented with spaces between delicacy and destructiveness, the bodily and the sanitised, the pleasurable and the strange. Confronted with the suggestive insides of an oyster, the fragile perilousness of a morning star made of glass, and the Orwellian uneasiness of retractable car cameras, Henry presents a critical study of the floating mysteriousness of the real, the sensual, the compulsion, and the imaginary.

Behind each painting lies a detailed process of digital research. Henry selects his subjects from a self-produced digital archive of images circulating the internet and deep web. Scenes from films and newsfeeds, they could be moments we un-consciously recall in our cognitive archives formed through mass-media consumption and compulsive image digestion. Each digital image is dissected and analysed in photoshop to be translated into oil paint. Indeed, in quantity and sequence, the works become a kind of feed in themselves, emerging from their origins in Henry's process of digital archiving as a research technique for painting.

The translation between the digital image and the tactile painting in itself suggests a new kind of psycho-somatic pleasure principal characteristic of the digital age. Is cognitive-techno capitalism driven by the floating objects of desire? Daily interaction with 'contemporary tele-techno masturbators'[1](smartphones), the caress of skin against the aluminosilicate glass of a phone screen, the mini-orgasms of notification-temporality and numbing boredom of newsfeed passivity are indirectly reflected in Henry's studies of the sensual significance of translation – and of the between, in all of its contours.



---


[1] Paul Preciado, 'Candy Crush Rehab,' An Apartment on Uranus: Chronicles of the Crossing (London: MIT Press, 2020), 54.



installation view "Fiaskoflirt" - Okay Works Vienna
"Sie gestatte, die Revolte", 2022, oil on canvas, stainless steel frame, 65 x 50 cm
"Stargazer", 2022, oil on canvas, stainless steel frame, 65 x 50 cm
"Show Me How", 2022, oil on canvas, stainless steel frame, 65 x 50 cm
"Never Have I Ever", 2022, oil on canvas, stainless steel frame, 50 x 65 cm
"Lift Me Up", 2022, oil on canvas, stainless steel frame, 50 x 65 cm
"A Sweet Escape", 2022, oil on canvas, stainless steel frame, 50 x 65 cm
"All See-Through", 2022, oil on canvas, stainless steel frame, 65 x 50 cm
"Hodlr", 2022, oil on canvas, stainless steel frame, 65 x 50 cm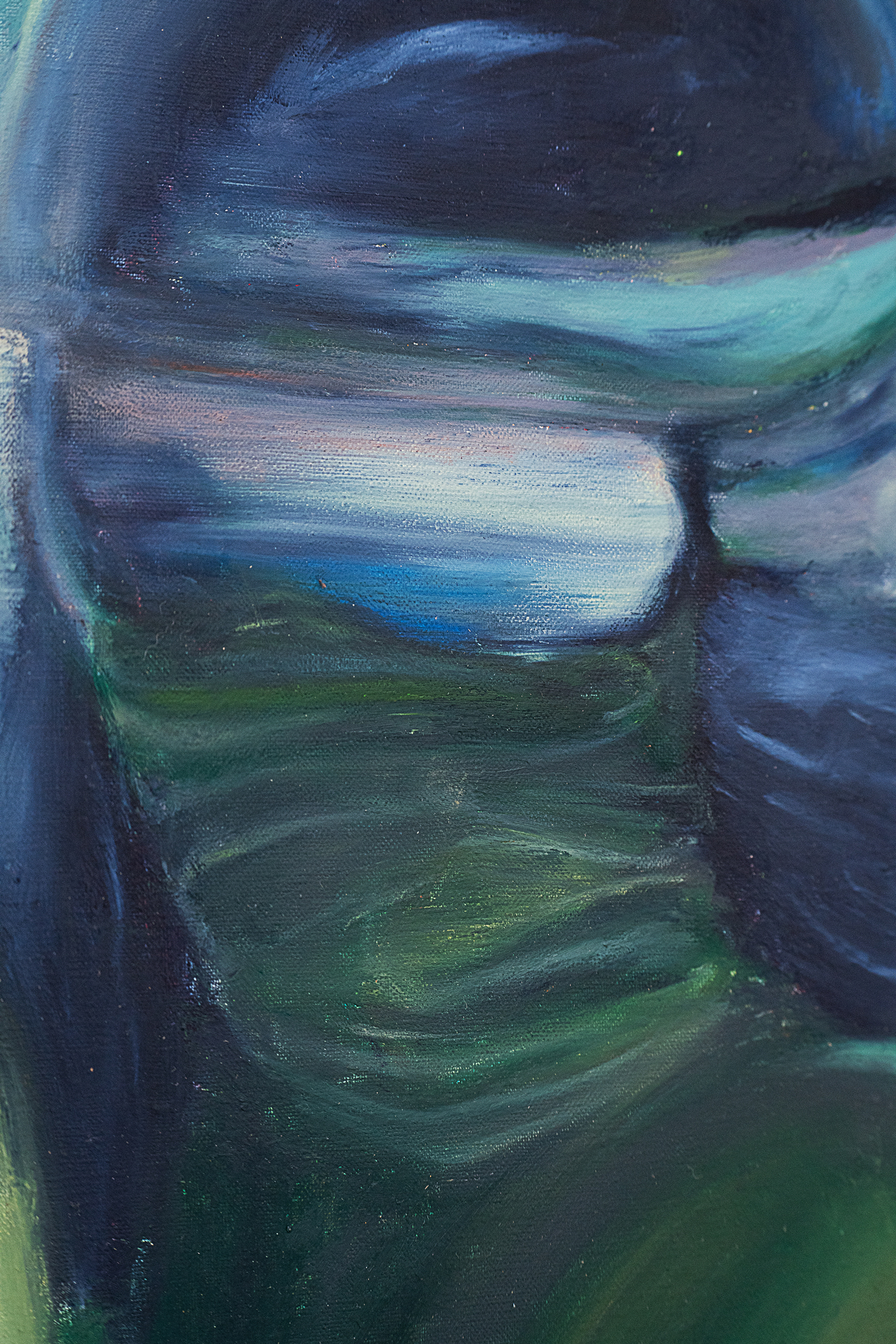 "Living Inside The Mind Of Somebody Who Lost His Own", 2022, oil on canvas, stainless steel frame, 50 x 65 cm
"Der Neuralgische Punkt", 2022, oil on canvas, stainless steel frame, 50 x 65 cm
"Feeder", 2022, oil on canvas, stainless steel frame, 65 x 50 cm
"Tender Offer II", 2022, oil on canvas, stainless steel frame, 65 x 50 cm